Our History
Main Content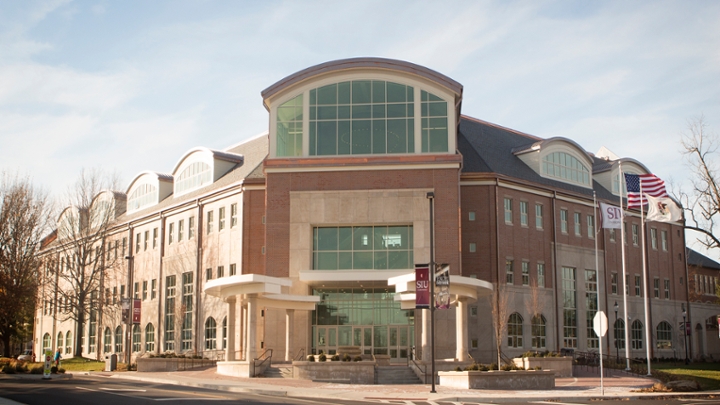 Our campus contains two residence halls areasJ: East Campus (formerly known as Brush Towers, University Hall and University Park) and West Campus (also known as Thompson Point). Our campus also currently contains three apartment complexes.
1912: ANTHONY HALL
1962: WEST CAMPUS
The buildings on West Campus, originally known as "Thompson Point", were completed in two phases. The first phase was finished in 1957 and the second in 1962. Thompson Point buildings were named after many distinguished scholars, advocates and philanthropists.
1965: NEELY HALL
Neely was originally part of "University Park", which also included the "Triads" and Trueblood Hall. University Park was completed in 1965 with Neely Hall designated for women and the Triads for men. The Triads were demolished in 2012. Neely and Trueblood are located on East Campus.
ORIGIN OF BUILDING NAMES
Neely was named for Charles and Julia Neely, who were both professors in the English Department.
Allen (a Triad) recognized John W. Allen, who was a noted area historian and directed the University Museum.
Boomer (a Triad) honored Simeon E. Boomer, who was a professor of physics and astronomy.
Wright (a Triad) was named for John I. Wright, a professor of history and former mayor of Carbondale.
Trueblood recognized Dennis L. Trueblood, who taught in the Higher Education Department.
1965: ELIZABETH APARTMENTS
Elizabeth Apartments opened in 1965.
1968: MAE SMITH & SCHNEIDER HALLS
These towers were completed in 1968. The towers and the commons building (Grinnell Hall) for this area were originally named Brush Towers. This designation is no longer used. The towers, Grinnell, Trueblood and University Hall are located on East Campus.
ORIGIN OF BUILDING NAMES
Brush Towers were named after Daniel Harmon Brush, who was a founder of Carbondale and a prominent businessman and civic leader.
Grinnell honors John Erie Grinnell, who served as Dean of the College of Education and Vice-President for Operations of the Carbondale campus.
Mae Smith is named after Mae Trovillion Smith, a professor of English and well-known author.
Schneider recognizes William B. Schneider, who served as chairman of the English Department.
1969: EVERGREEN TERRACE
Evergreen Terrace Apartments opened in 1969.
2004: UNIVERSITY HALL
While University Hall many years prior to 2004, this facility was purchased by SIU and became part of our on-campus housing portfolio in 2004. The history of this facility follows. University Hall was constructed in 1967 as a privately-owned, off-campus facility and was originally called Wilson Hall. In 1987 the facility changed its name to University Hall and was allowed to house freshmen. University Hall was purchased by SIU University Housing in 2004.
2007: WALL & GRAND APARTMENTS
Building I in Wall & Grand Apartments opened in December 2006. Buildings II and III opened in 2007.