Shout Outs!
Main Content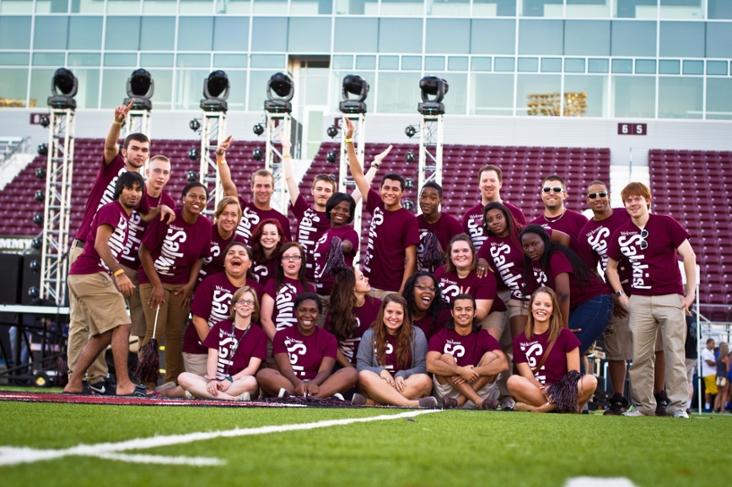 Know an employee who has gone above and beyond? Submit a Shout Out and let everyone know about it!
RECENT SHOUT OUTS
ZIGGI TYLER
Residence Life
Ziggi, You are the greatest RA we could have ever asked for and you slay us on the daily. Thank you for being an amazing person and an amazing resource for all of your residents aka children. We love you!! Kirsten, Morgan, Alyssa
Nominated by: Kirsten Gard from Residence Life on 11/20/2017
ALYSSA GADDIS, JEFF MILLER, JIM HUNSAKER
Operations
From an appreciative parent: We had a couple of questions about the full meal plan, and when the cost was about $400 more than we anticipated, we balked, the cashier told us to go upstairs to housing; they could fix the problem. At housing we were met by Alyssa Gaddis, who could not answer all of our questions, she called Jim Hunsaker over and between the two of them we worked out all our issues. In the end, we bought 3 of the block 20 plans and Jim suggested we use his computer. There were some issues with the computer so Jeff Miller from IT was called in and he, in the end, got us signed up. I cannot say enough about the outstanding quality of care and service these 3 delivered. If our son had not already decided about attending SIU, they would have tipped the balance. We went down to the cashier to ensure that we had no balance, had some questions and Jim went downstairs with us, took us in back and straightened everything out. Alyssa, Jim and Jeff were outstanding, my wife and I cannot say enough about them. If you have a customer service award or any other award program, please consider something for them in your next award cycle; they were simply outstanding!! Alyssa was an eager representative, went out of her way to help, as did Jim and Jeff. Please let them know how much we appreciated their level of service!!
Nominated by: Jon Shaffer from Administration on 09/05/2017
TRUEBLOOD STAFF
Residence Hall Dining
Kudos to Trish Pinson, Craig Jackson, Lonnie Mudd, Chris Sexton and the rest of the Trueblood crew for their quick response and outstanding preparation when the water was shut off this morning. Twice in one week this happened and you rocked it both times! Thank you for all you do!
Nominated by: Pam McGuire from Residence Hall Dining on 12/08/2016
REFRIGERATION CREW
Facilities
Thank you to John Shelton and Mike McRoy for turning back the thermostats so that the a/c units do not have to run so much during the summer which helps in preventing breakdowns.
Nominated by: Refrigeration Crew from Facilities on 07/28/2016
KITA SHERRILL
Operations
Thanks for recovering the missing Residence Life files while I was away! It was greatly appreciated!
Nominated by: Jeff Miller from Operations on 06/06/2016
BRANDON MACIER
Operations
Thank you Brandon for your hard work on unanticipated video projects. You worked late into the night to finish your project and it turned out great.
Nominated by: Crystal Bouhl from Operations on 05/12/2016
LAUREN BERGHOLZ
Residence Life
Lauren has done an exceptional job assisting in sharing our social media content and informing salukis of all the great opportunities within University Housing! Thanks Lauren!
Nominated by: Brandon Macier from Operations on 03/23/2016
GLENN STINE AND SCOTT TAYLOR
Facilities
A big thanks to all the facilities staff who do a really good job maintaining our display rooms. We appreciate your hard work and dedication to making our places look great and leaving a good impression for our guests. Thank you! Rebecca Dycus
Nominated by: Rebecca Dycus from Operations on 02/29/2016
TRAVIS TUCKER
Residence Life
I'd like to send a shout out to Travis Tucker. Travis has been the only Hall Director on West Campus for the past three months and he has without hesitation been there for every student,every Resident Assistant,as well as supervising the Graduate Assistants. Even with all the added responsibilities he has made time to reach across campus to assist with other programs and initiatives. Travis is a true team player and it is my pleasure to work with him everyday.
Nominated by: Janette Howard from Residence Life on 01/29/2016
BRANDON MACIER
Operations
Thank you to Brandon Macier for working with Printing & Duplicating and University Communications & Marketing on the Student Affairs Banner! We appreciate your team effort!
Nominated by: Crystal Bouhl from Operations on 01/27/2016
RES LIFE & OPERATIONS STAFF
Multiple Units
Thank you to the individuals in Residence Life and Operations who worked together on the SIU Involvement Fair from 4pm-7pm on Jan. 21! We had several hundred students attend the fair and receive more information about involvement opportunities within University Housing. Thank you all for going the extra mile! Thank you also to those who met to plan the event! It was a collaborative effort that was appreciated!
Nominated by: Crystal Bouhl from Operations on 01/27/2016
ALYSSA GADDIS
Operations
Recently a relative of a student was in the office speaking with Alyssa Gaddis, one of our student staff at the front desk. The customer had a request due to a tragic happening in the future student's life situation. I overheard Alyssa speaking with the customer, explaining what to do. Alyssa was extremely caring with the woman and even went so far as to give the woman her private number for the student to call her if she needed some help finding her away around when she arrives. Alyssa said she would be more than willing to help this student in anyway. It was wonderful listening to how caring she was and knowing Alyssa, I am sure this is part of her daily routine. Thank you for being such a good person, Alyssa. I am sure this customer appreciated your kindness.
Nominated by: Trudy Ruffino from Operations on 11/12/2015
FACILITIES STAFF IN UNIVERSITY HALL
Facilities
The following was submitted by a University Hall resident. Great job Facilities staff! Thank you so much for taking the time to read this e-mail. This is my second semester at SIU and at U-hall. Prior to coming to SIU I was expecting to see average level of cleanliness (DIRTY)....BUT.... To my surprise I have found the level of cleanliness to be EXTREMELY HIGH. As a former military man and business owner, I feel that it is my duty to make you aware of the OUTSTANDING JOB your people are doing throughout the building and especially in the men's rooms. Actually it almost looks like showers are NOT being used . Also, I had issues with A/C in my room and your maintenance guys were prompt ,polite,took care of problem and made a follow-up visit. How GREAT is that?! THANK YOU for all of this JOB WELL DONE!
Nominated by: Crystal Bouhl from Operations on 10/16/2015
VICKY EDWARDS
Residence Hall Dining
Thank you to Vicky Edwards, Food Service Administrator III at Trueblood. She performed the Heimlich maneuver on a young man who was choking in the dining hall. We really appreciate your assisting the student!
Nominated by: Peggy Connors from Residence Hall Dining on 09/30/2015
KITA SHERRILL
Operations
I want to thank Kita Sherrill for doing such a great job moving so many computer work stations this summer in facilities. We have had several retirements and many other people moving offices to fill vacated positions. This included moving my office from the Student Service Bldg, to Neely and finally to Schneider Hall. Now that all the moving around is over, its time to say "Thank You" to Kita.
Nominated by: Glenn Stine from Facilities on 09/17/2015
PEGGY CONNORS AND TOM BRUMMER
Residence Hall Dining
I would like to give a shout out to Peggy Connors and Tom Brummer. They have gone above and beyond to help the Student Center Dining staff. Not only did they invite us to their all day training workshop. They also allowed us to utilize a very important training on-line. These trainings were very appreciated. We cannot Thank them enough for all their help and expertize!
Nominated by: Robert Hepburn from Operations on 08/31/2015
JEFF MILLER
Operations
Jeff Miller has gone above and beyond working to get the cable and internet hook ups at Evergreen undergrad apartments. He continually is coming out working with students, and calling Mediacom. We appreciate him!
Nominated by: Elizabeth Scally from Multiple Units on 08/24/2015
MACKENZI BLOOM, KLYLE HERBERG, GREG PRIESTER, MICHELLE KINNEY, LUKE POOLE, TRAVIS TUCKER, ELINA SAVOIE, CHRISTINA WICHLIN, AND KAYLA REED
Residence Life and
A huge thank you to all the hall directors that helped give housing tours at last week's Open House. Your help was greatly appreciated! You guys are awesome!
Nominated by: Lori Randolph from Operations on 07/23/2015
LORI RANDOLPH
Administration
A big thank you to Lori Randolph for showing us around Neely Hall! She took time out of her day to give us a special tour. She did an excellent job! We learned a lot of very useful information to relay to students when they visit us.
Nominated by: Student Health Records and Registration Staff from Multiple Units on 07/01/2015
FRANK AND CHUCK
Facilities
Frank and Chuck go the extra mile at Evergreen Terrace. They exceed customer expectations and are proactive in their approach. Thank you!
Nominated by: Elizabeth Scally from Multiple Units on 04/29/2015